A twist on my butterfinger chocolate chip recipe. These infused white chocolate chip & pistachio cookies are so so yummy! I love all of the flavor elements in this cookie, they're chewy, buttery, and have a perfect salty to sweet ratio. Please enjoy safely and responsibly!
Notes:
ALWAYS label and keep completely out of reach of children, pets and un-expecting individuals.
Dosage will be specific to your specific infused butter. It's recommended to start with a low dose of 5mg per serving. For help with making your own infused butter, click here. For help with calculating dosage, click here.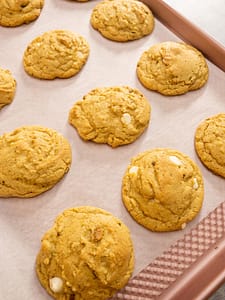 Infused White Chocolate Chip and Pistachio Cookies
Browned butter, white chocolate chips, and chopped pistachios come together to make this chewy and delicous cookie.
Ingredients
1 1/2

cup

all purpose flour

1

tsp

baking soda

1/2

tsp

salt

2

tbsp

corn starch

1

cup

brown sugar

1/4

cup

granulated sugar

2

tbsp

canna butter

melted

5

tbsp

salted butter

browned (see note)

1

egg

1

egg yolk

2

tsp

vanilla extract
Instructions
NOTE: To brown your butter heat it in a small sauce pan over medium heat for 5-8 stirring constantly. Your butter will have darkend and appear to have brown flakes in it, this is the browned butter and it is exactly what you want!
Recipe
Whisk your butter, sugars, and salt together until there are no lumps.

Add in your egg, egg yolk, and vanilla and whisk together until smooth.

Next add in your flour, baking soda, corn starch, and salt. Fold together.

Now the fun part. Fold in your white chocolate chips and chopped pistachios. (You can also pulse your pistachios in a food processor).

Cover and let the dough chill in the frige for 30 minutes.

After 30 minutes use a cookie scoop to scoop your dough onto a parchment lined or non-stick baking sheet about 2 inches apart. Bake at 375 degrees for 8-10 minutes.

Note: A shorter cooking time equals a softer cookie. So I usually stick with 8 minutes. They might be seem too soft when they come out but they will continute to set up on the baking sheet and be perfect after about 15 minutes of cooling.